? Alaskan Glacier Cruise over the 4th of July
Date & Time
Fri Jun 30 2023 at 02:30 pm
UTC-07:00
Location
Smith Cove Cruise Terminal / Pier 91 | Seattle, WA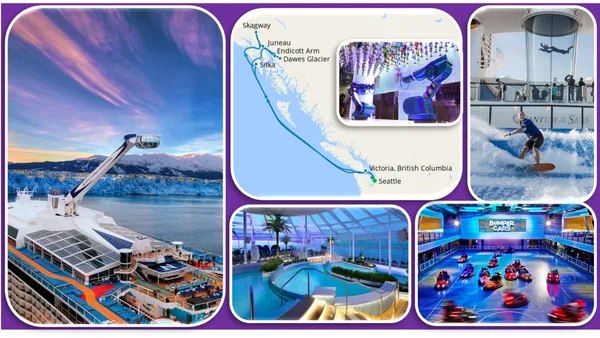 Advertisement
Details
You're invited to join other meetups and TCI for this 4th of July Alaskan Cruise! Welcome to the largest ship on the Alaska cruise circuit - Royal Caribbean's Ovation of the Seas! Cruises are always fun, but even more fun with a group. In addition to all the fabulous onboard activities and excursions, we'll have special private events for our group, hosted excursions at every port and so much more! ~Claudette
Passport, Enhanced Driver's License, or Driver's License with Certified Birth Certificate copy is REQUIRED. Covid-19 vaccinations are no longer required for adults.
PORTS OF CALL
Seattle, WA | Sitka, AK | Skagway, AK | Endicott Arm, AK | Dawes Glacier, AK | Juneau, AK | Victoria, BC | Seattle, WA
ITINERARY
(subject to change)
Day 1 – Friday, June 30
TCI Welcome Desk 1-5pm
4pm Set Sail
Day 2 – Saturday, July 1
At Sea
Delegates Meeting
4pm Welcome Cocktail Party
Day 3 – Sunday, July 2
Sitka, AK 10am - 5pm
Formal Night Dinner
Day 4 – Monday, July 3
Skagway, AK 8am - 5pm
Day 5 – Tuesday, July 4
Endicott Arm & Dawes Glacier, AK 5 -10am
Juneau, AK 1-9pm
Day 6 – Wednesday, July 5
At Sea
TCI Pageant (tentative)
Formal Night Dinner
Day 7 – Thursday, July 6
Farewell / Awards Lunch - Specialty Group Dining
Victoria, BC 5 -10pm
Day 8 – Friday, July 7
7am Arrive
COST: $1,245 pp
This is the starting rate for an Interior cabin with a Virtual Balcony (which qualifies for a onboard cabin credit of $50 for early bird bookings), per person based on double occupancy, single occupancy rates available. (Rates are subject and subject to availability.)
? Cabin Upgrades available.
? Best airfare rates are available via Royal Caribbean - Book Now, Pay Later - 90 days prior to sailing.
? Early Registration Bonuses available!
REGISTER at https://bit.ly/TCIconvention2023-Register - starting rates and extra details are list there.
For their 85th year, Tall Clubs International (https://www.tall.org/) is opening their TCI 2023 Convention at Sea! to guests of members, regardless of height, to celebrate. Since I'm a member, I'm sharing this wonderful cruise with you to join us! Don't let the term "convention" scare you. There aren't may meetings or boring activities, just a lot of great fun with special inclusions, perks and activities at great rates.
INCLUSIONS
TCI Convention at Sea, Taxes and Port Fees, AYCE Meals including Room Service, Private Welcome Cocktail Party and Farewell Specialty Dining Lunch, Stage Shows, Live Music, Night Clubs, Comedy Shows a Variety of Exclusive Group Activities and several onboard activities (some are at extra cost): Adults-Only Solarium Oasis, FlowRider Surfing, Spas, North Star 360° Observation Deck, Rock Climbing, Bumper Cars, Bionic Bar, DreamWorks Experience, Casinos,, Karaoke, Pools, Hot Tubs, Hosted Group Port Excursions and so much more!
Hotel arrangements can also be made for those who'd like to stay in Seattle before the cruise or staying a few days after the cruise - select days and hotel options via the Registration Form - https://bit.ly/TCIconvention2023-Register
FOR FULL DETAILS visit: https://bit.ly/TCI2023ConventionatSea-Details
https://www.facebook.com/TCI2023ConventionatSea
If you a woman 5'10"+ or man 6'2"+, and you'd like to join TCI (in Seattle it's $15 a year), let me know and I'll share a special perk with you!
Event Location
Smith Cove Cruise Terminal / Pier 91, 2001 W Garfield St,Seattle,WA,United States, Seattle, United States
Event Host