4th Of July At Magic Hour Rooftop
Date & Time
Tue Jul 04 2023 at 03:00 pm to Wed Jul 05 2023 at 03:00 am
UTC-04:00
Location
New York, New York | York, NY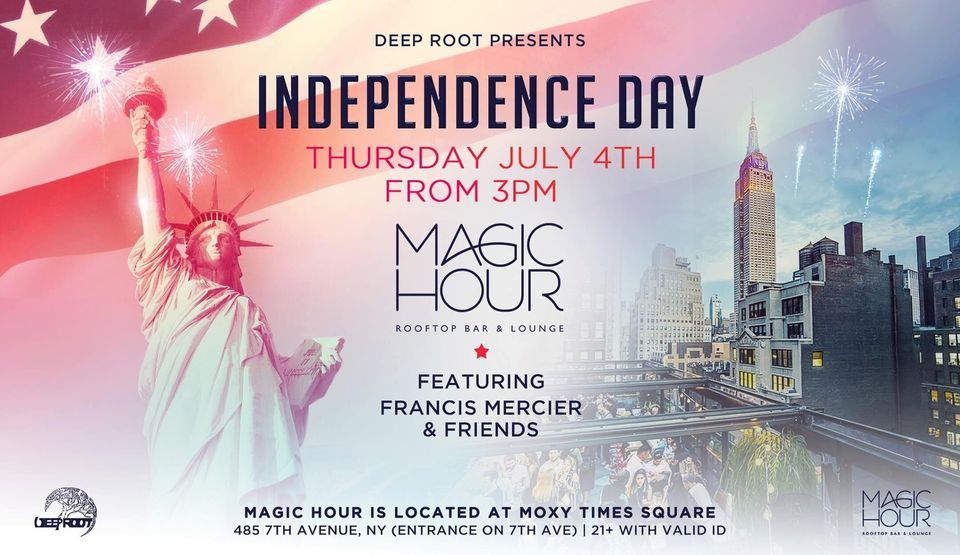 Advertisement
Details
Get Your Tickets Here - http://bit.ly/nycdailyjuly4thmagichour
4th Of July At Magic Hour
Magic Hour
485 7th Ave
New York, New York
View Map
AddThis Sharing Buttons
Share to Facebook
Share to TwitterShare to PinterestShare to Sina WeiboShare to BloggerShare to GmailShare to Print
Available Selections
Early Bird
$15.00
Quantity
More Info
VIP Tier 1
$30.00
More Info
On Thursday July 4th, Deep Root Records is proud to present your kick off to Independence Day at New York's most exclusive and sought out rooftop club + lounge, Magic Hour located in Moxy Hotel! Come celebrate your freedom with Manhattan's most gorgeous city skyline views, luxurious designs and the hottest DJs performing your favorite commercial music hits!
There's a reason why Heidi Klum, amongst other A List Celebrities celebrate their most decorated occasions at Magic Hour. And with a lavish indoor and outdoor portion, there are no excuses to come out and play. Highlights will include views of the west side fireworks, carousel seating, oversized topiary gardens, and a miniature putt-putt featuring life-size animals in flirty poses. The vast, all-season rooftop lounge will comprise multiple bars and seating areas, each with a distinct vibe and design sensibility to provide an endless stream of indelible "moments."
Like Holiday Events for more Events & Parties coming up soon!
Event Location
New York, New York, ,New York,NY,United States, York, United States
Tickets & Booking Details
USD 30
Event Host